Original UpRight Scaffold USA Span Scaffold is a lightweight aluminum mobile tower system that is quick and easy to assemble. Strong, durable and highly versatile, the Span Scaffold can be used as a simple free standing rolling tower or as part of a complete scaffold system. Span Scaffold is available in single-wide and double-wide and in lengths of 6ft, 8ft and 10ft. It features the Rib-Grip cold-formed joint design, which has been proved to be up to three times stronger than welded joints. Used for general maintenance and construction everywhere, Original UpRight Scaffold USA Span Scaffold will keep on working, providing a high return on investment and giving the professional tradesman a reliable, and secure method of working.
Single Wide Scaffold is approximately 29 inches wide so it can roll through standard doorways. Perfect for work in congested or narrow areas. Available in 6, 8, or 10 ft lengths.  When properly braced extension sets can be added to increase the height of Single Wide Scaffold.  All the frames and braces are lightweight and extremely strong, allowing for fast and easy setup, minimizing cost and time spent on setup.
Benefits to single wide frames:
Small and portable

Easily set up

500 lb capacity per platform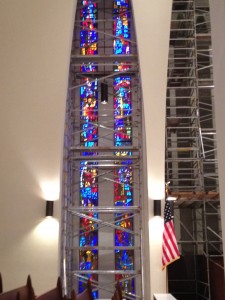 Double Wide Scaffold is approximately 54 inches wide and can be configured to 6, 8, or 10 ft lengths. The Double Wide scaffolds offer a larger work area and load capacity. Add 4', 5.5' or 6.9' extension sets to increase the working height.  Typical setup time for a 25' high tower, with two people, is approximately 20-25 minutes.
Benefits to double wide frames:
Multiple workers can maneuver easily on the side by side platforms

Greater weight capacity

500 lb capacity per each platform, side by side

Outriggers not required on 12' or lower tower height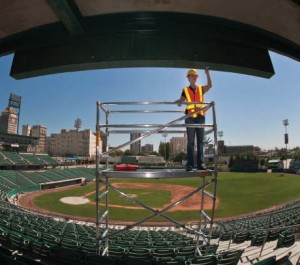 Folding VX Frames are available in both single wide and double wide bases.  They easily fold to just under 10'' wide and are available in both 6' and 8' lengths.  Using our unique folding braces which are attached to the frames, the VX folding base frames both reduce storage space and eliminates the possibility of loss or damage in storage.  With just a few simple adjustments, and NO TOOLS, the folding VX frames go from completely folded for storage to ready for use in just seconds.
Benefits to VX Folding Frames:
Easily stored

All components attached

Even faster setup than standard frames